Terroir
---
Terroir is the name given to the identifying nuances of a wine that are the result of the natural environment in which it is produced. Soil, climate and elevation are all key influences on the aromas, flavors and textures that define a specific wine's terroir. Wines that express delicate floral notes, spices, savory and mineral traits are, in fact, expressing the essence of the terroir of a vineyard.        
An AVA (American Viticultural Area) is defined by regional characteristics, and also by political boundaries and convenience. Thus most AVAs include multiple terroirs due to the diversity of their soil and climate. In conformity with U.S. regulations, we state the AVA of each wine on our labels. But in truth, rather than falling back on a more general AVA classification, our philosophy is one of recognizing the unique character, the terroir, of each individual vineyard.
High Valley AVA, Lake County
Ramspeck, Sassolini Pinot Grigio
Our Sassolini Pinot Grigio gets its characteristic minerality from the volcanic and alluvial rock of our vineyard, which is at an elevation of 1800 feet. The cool climate slows the sugar accumulation in the berries, allowing more flavor, bright acid, and a low pH. This wine is our answer to those who think a classic Pinot Grigio cannot be produced in California. We felt this vineyard was a hidden treasure when we discovered it and worth the two hour drive to reach it.
Santa Cruz Mountains AVA
Cenay, Chardonnay, TGX Vineyard
Our TGX Chardonnay is a classic, old-school style wine made the way Chardonnays used to be made twenty years ago. Grown in this cool micro-climate with mineral soils, the grapes ripen slowly and the harvest is late. The mountain vineyard faces west towards the Pacific Ocean, which lies just a few miles away. All these elements of the terroir provide the fruit with character that is crafted to make an impression on even an "Old World" palate. This vineyard is another hidden jewel, requiring a two and a half hour drive each way – an unusually long commute for a winemaker.
Carneros AVA, Napa Valley
Ramspeck, Pinot Noir
Carneros is the first wine region in California to be defined by its climate characteristics rather than its political boundaries. With growing conditions cooler than Burgundy, our grapes can retain greater acidity than in warmer locations. The cooling summer breezes slow the ripening process so the grapes attain full maturity, while the fierce and persistant winds coming off the bay produce berries with a thicker skin. This is particularly good for our Pinot Noir, as the color and flavor of any red wine comes from the skins.
Our vineyards here are planted with Dijon #115, #777, #667 and Pommard #5 clones, a combination that gives us the pretty fruits of Dijon and the sturdy tannin and color of Pommard.
Central Otago AVA, New Zealand
Rowland, Pinot Noir, Jill's Vineyard
Rowland, Pinot Noir, Wild Thyme Vineyard
The memorable attributes of Burgundy's famous appellations are the clones, hang time, terroir, and cool climate. But early rains in the region sometimes spoil fruit quality and lower concentration, necessitating an early harvest or risking mold.

Enter Central Otago, on the South Island of New Zealand, the most southern viticultural region in the world. Carved by glaciers, this land of westerly slopes, well-drained gravel, warm days and cool nights has Burgundy's best qualities, but the grapes can hang for an extra month developing concentration without the threat of harvest rains.

This exceptional fruit comes from a three-acre parcel of 25-year-old vines (Pinot Noir clones from Pommard and Dijon) first planted in 1973. Bill and Gillian Grant carefully remove leaves and crop at two tons per acre to create the superb fruit of Wild Thyme Vineyard (formerly Jill's Vineyard).
Atlas Peak AVA, Napa Valley
Rowland, Pinot Noir
On Atlas Peak, the terroir at 1,800 feet consists of a shallow top soil of Terra Rossa earth broken up by volcanic rock. The temperature rises to its peak around midday, helping to develop ripe berry fruit flavors, but the late afternoon cool bay breezes prolong the ripening period and allow more concentration, flavor and color to develop.
The phylloxera-tolerant, shallow-rooted rootstock is trained on a twin vertical trellis and produces only a single cluster per shoot and a low 2 1/2 tons per acre. The clonal characteristic is a natural low yield, late to harvest, with a tough, thick-skinned berry that is half the size of normal.
The three components required to make an outstanding wine from a single vineyard are all present here: location, vineyard management and varietal clone. Only a few vineyards such as Atlas Peak can produce fruit sufficiently unique and complete to deserve this status.
Red Triangle Vineyards, Napa Valley
Rowland, Cabernet Sauvignon
Rowland, Syrah
Our Red Triangle Vineyards unite the Napa Valley appellations of Atlas Peak, Stags Leap and the district of Coombsville, creating a triangle of regions renowned for growing distinctive red wine grapes of exceptional quality.
The Red Triangle Vineyards not only possess an underlying soil structure of well-drained granite pebbles similar to the gravel riverbeds of Pauillac and Hermitage, but they also share the benefits of low rainfall. The key to the consistency of Rowland Red Triangle Vineyards is the drier, wind-sheltered climate.
Rutherford AVA, Napa Valley
Cenay, Cabernet Sauvignon, RB90
At the heart of Napa Valley lies the famed Rutherford Bench, an alluvial fan consisting of low-yielding loam and gravel soil. The distinct expression of ripe blackberries and dusty spice from the "Bench" gives the impression of a great Bordeaux blend, but actually this has been achieved from 100% Cabernet Sauvignon grapes retaining the power and strength of the variety.
The RB stands for Rutherford Bench, of course, but the "90"? The original vineyard was sourced from 90 vines of extra special character. These became the mother plants providing grafting material to propagate a full vineyard of extra special character.
Oak Knoll AVA, Napa Valley
Cenay, Pinot Noir, Rodgers Vineyard
Cenay, Cabernet Sauvignon, Blue Tooth Vineyard
Oak Knoll is located at one of the Napa Valley's widest points, resulting in more time in the sun for the vineyards. This higher sun exposure, along with the deep, well-drained fan of gravel and shattered sandstone, are the underlying factors that make Oak Knoll appellation so spectacular.
With a definite marine influence and fog contributing to cool summer mornings and the bay breeze tempering the afternoon heat, the sugar accumulates at a slower rate to the tannin, color and flavors of the berries. This allows us to produce ripe fruit at a more normal berry sugar level, which means the yeast in turn will produce a wine with full flavor at a lower alcohol level than warmer parts of the Valley.
Rodgers Vineyard
The key elements that contribute to the success of Rodgers Vineyard are its location, clone type, vine maturity and management. The clone is low yielding and late to ripen and the average vine age is over 50 years. These factors contribute most to the concentration of the fruit. Good trellis management and increased sun exposure through leaf removal and windowing of the canopy maintain yearly consistency.
We have named our Rodgers Vineyard Pinot Noir in tribute to a Napa Valley family's quiet achievements. Although Cliff Rodgers passed away in 1999, the family's third generation maintains ownership and supervision of this exceptional vineyard.
We have been working with Rodgers Vineyard since 1991, making the first vintage in our garage. We count ourselves fortunate to have made wine for so many years from such consistent, quality fruit.
Blue Tooth Vineyard
The original Blue Tooth Vineyard was planted with Cabernet Sauvignon in the 1920s. Prohibition soon followed, with its long term effects on wine consumption, and in 1945 the Gittings family purchased the property and converted it to a dairy.
In the late 1980s, owner Sam Gittings replanted the land back to Cabernet Sauvignon and Merlot. He painted a prominent blue molar on the side of his barn as a wry nod toward his career as a dentist as well as the color one's teeth can become when tasting concentrated, Blue Tooth Cabernet Sauvignon wines.

Since 1993, we have been making a limited quantity of wine from Blue Tooth Vineyard. It took another four years to convince the Gittings family to continue planting, and to secure a contract so that we would have enough fruit to showcase the quality of these exceptional vines.
Yountville AVA, Napa Valley
Rowland, Cabernet Sauvignon, Sleeping Lady Vineyard
We have always been impressed by the quality of fruit from Sleeping Lady Vineyard and made several attempts to secure access to it in the past. The phenolic research (the study of tannin, color and flavor compounds) collected on these vineyards indicates the fruit to be comparable to that in some of the top wines from the Napa Valley.
The vineyard is situated in the southernmost part of the Yountville AVA, on the border of Oak Knoll, where the fog is first to burn off. The soils are shallow and very different from our other vineyards in Oak Knoll, in that they are an interesting mix of volcanic and limestone rock. This hillside site with its unique soil attributes make this vineyard well suited to Cabernet Sauvignon.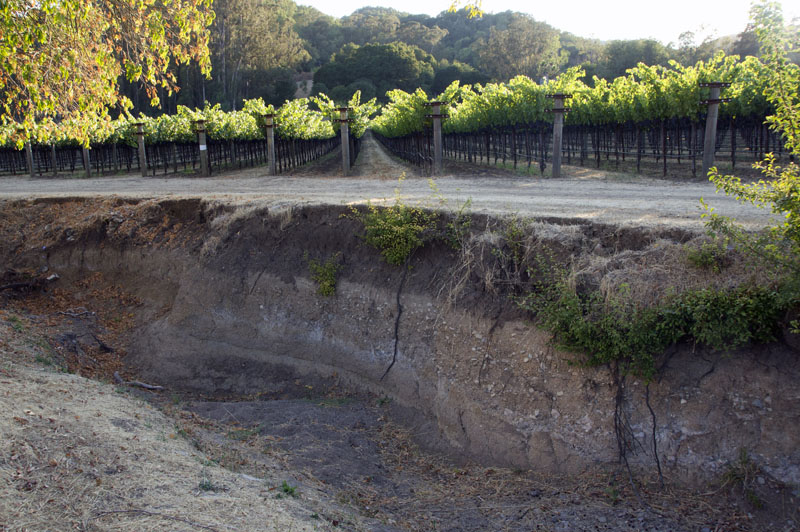 Sleeping Lady VIneyard